Cognitive Performance & Focus
Recharge your mental agility and intensify focus with cognitive nootropics for smart thinking.
Our brains are such an important and often overlooked organ. Like every other part of our body, our brains rely on a constant delivery of nutrients in order for them to perform at their best. Modern living, including our diets, lifestyles, environmental pollutants, hormonal fluctuations and stress put our brains under additional pressure. 
We often use the word "brain fog" to describe how we feel when we're struggling to think clearly and focus on the task in hand.
While there isn't a scientific explanation of brain fog, it is widely regarded to be an issue of nutritional inadequacy.  
Cut through the brain fog and sharpen your mind with some quick-thinking modern nootropics and keto fuel found in our products.  Natural caffeine, adaptogenic ashwagandha and natural iodine can support mental performance and cognitive function.
Our products to support cognitive performance & focus
"Add a teaspoon of Ancient + Brave's True MCT oil to your coffee to help boost the metabolism.  Derived from pure coconut oil with no added chemicals or solvents, it is also said to be good for the brain, improving focus and clarity."

Kathleen Baird-Murray
Beauty Editor of Vogue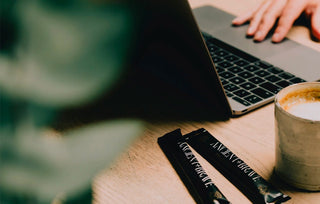 Coffee + Collagen
Just 35 calories per serving
Natural nootropics to help increase your alertness and improve concentration.
Adaptogenic ashwagandha known for its benefits in reducing stress.
Baobab known for its ability to promote feelings of fullness.
Chicory root fibre known to support weight loss through appetite regulation.
Inspired Collagyn (for brain)
Restorative ashwagandha for stress resilience.
Vitamin C for normal psychological function and brain
Deliciously comforting Ayurvedic inspired blend for balance.
Choline is a nutrient required for memory and mental function.
Vitamin D which is important for brain health. 
True MCT oil
Clean balanced blend of 60% C8 and 40% C10
Contributes towards satiety and feeling fuller for longer.
Popular nootropic support as a source of fuel for brain cells.
Add to your favourite blend for the ultimate bullet experience.
Energy source to help power through your day.
FAQs
WHY IS MCT SO IMPORTANT AS PART OF THE BRAVE METHOD?
True MCT is a key part of the Brave Method as it contains special fats that cells can readily burn and convert into energy and ketones. Providing the body, muscles and brain with an energy supply during fasting which helps contribute to curb hunger, sustain alertness, energy, mindset and physical performance.
HOW DOES MCT CONTRIBUTE TO COGNITIVE PERFORMANCE?
MCTs (medium chain triglycerides) are types of saturated fatty acids which, rather than being stored, tend to be quickly absorbed, converted into ketones and utilised in cellular metabolism and energy production. MCT is popular for ketogenic diets and nootropic support since ketones provide a potential fuel source for brain cells.