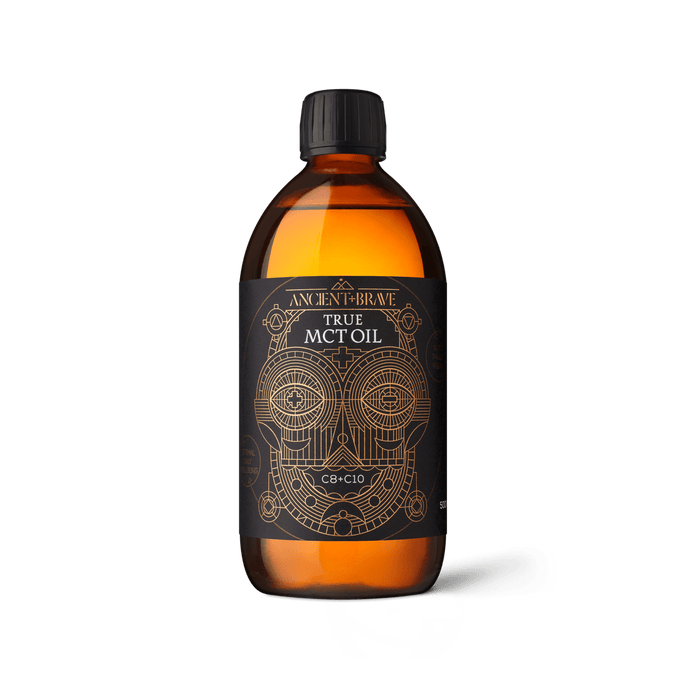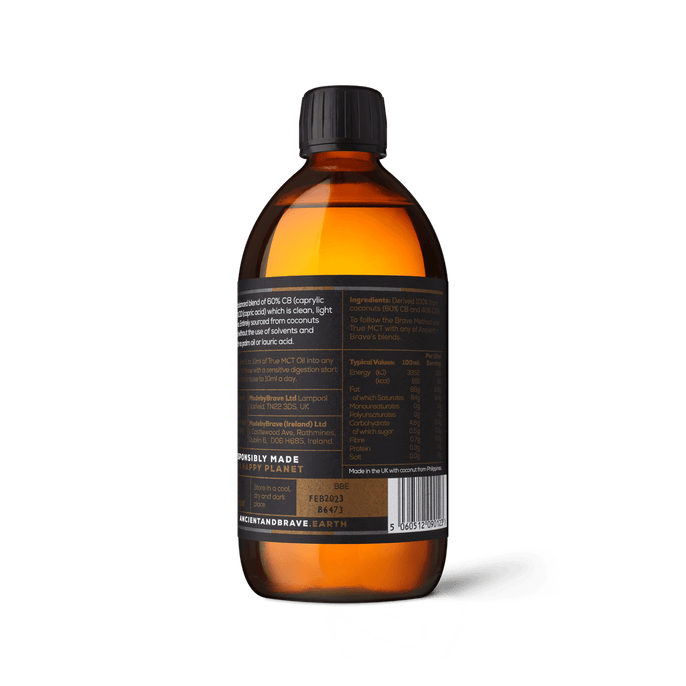 ---
True MCT Oil
Designed for the times in your day when you could do with a little more fuel in the tank. Our True MCT oil provides a beautifully balanced blend of 60% C8 (caprylic acid) and 40% C10 (capric acid) which is clean, light and flavourless. Entirely sourced from coconuts with no palm oil or lauric acid and extracted without the use of solvents and chemicals.
MCTs (medium chain triglycerides) are types of saturated fatty acids which rather than being stored, tend to be quickly absorbed, converted into ketones and utilised in cellular metabolism and energy production. Popular for ketogenic diets and nootropic support since ketones provide a potential fuel source for brain cells. 
500 ml (min. of 50 servings)
For every purchase you make we donate 1% for the Planet and an additional 1% to our chosen community charities
Huda Kattan

Founder of Huda Beauty

"OBSESSED with Ancient + Brave's True MCT Oil for my daily morning drinks. Helps with weight loss, memory and keeps me energised"
Eimear Varian Barry

Model, Fashion and Lifestyle Blogger

"True MCT oil works. If you're looking to lose weight and increase your energy, this is incredible. Think I'm bullsh*tting? Ask anyone who takes it. I've been taking it for a few days and 100% notice a difference."
Kathleen Baird-Murray

Beauty Editor of Vogue

"Add a teaspoon of Ancient + Brave's True MCT oil to your coffee to help boost the metabolism. Derived from pure coconut oil with no added chemicals or solvents, it is also said to be good for the brain, improving focus and clarity"
Susannah Constantine

Journalist, Presenter

"My energy and concentration levels have been boosted by the MCT oil. I know Ancient + Brave has improved my overall well-being."
Healthista

"Fuelled by the delicious Ancient + Brave Cacao + Collagen and MCT oil intermittent Fasting was a doddle."
"A really clean and efficient fuel for your body and brain."
Jo Woodhurst


Head of Nutrition
Benefits of True MCT Oil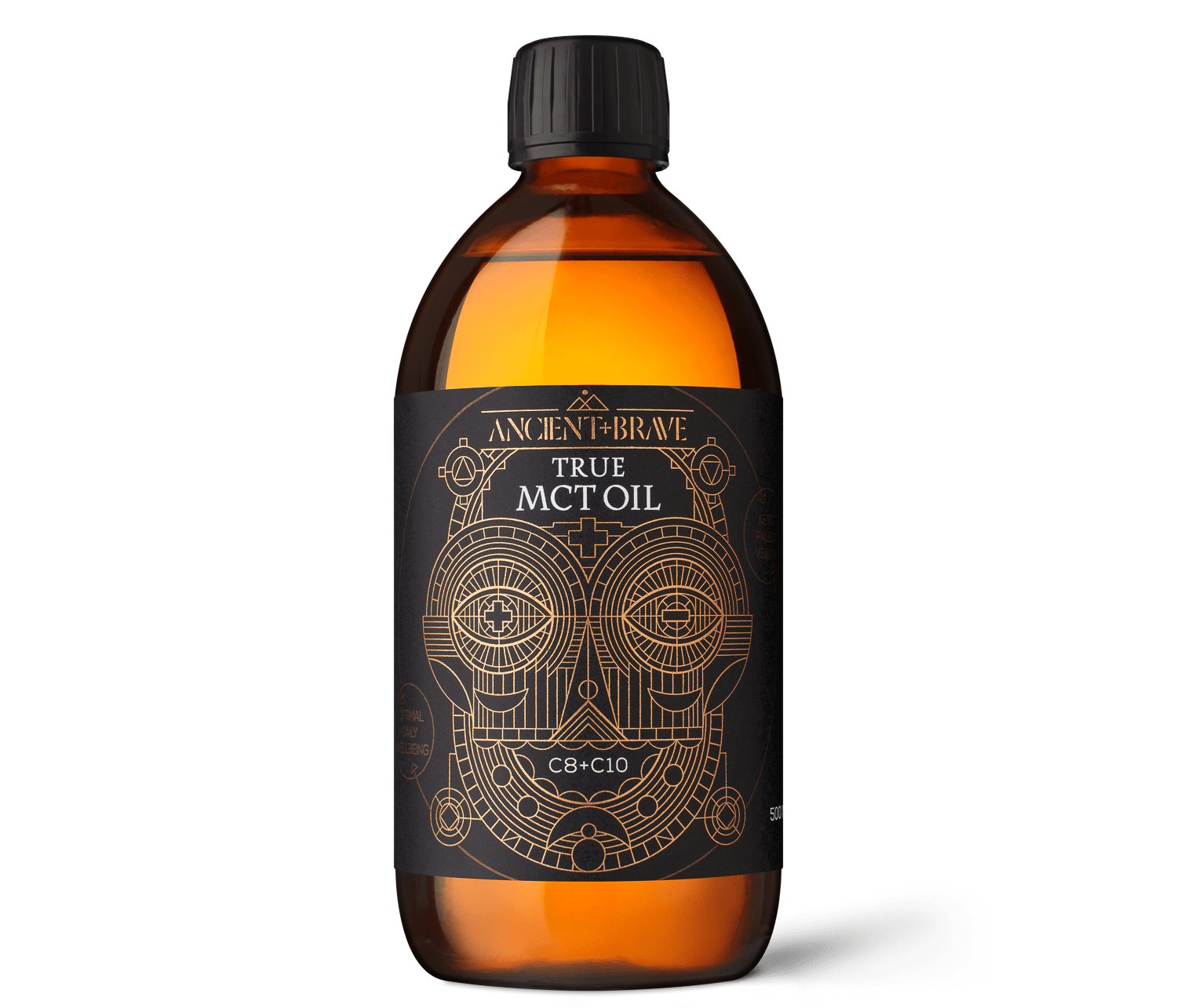 Sourced 100% from coconuts – never from palm oil.
Highly sought after 60% C8 and 40% C10 and zero undesirable C12.
Contributes towards satiety and feeling fuller for longer.
Supports the body's ability to burn fat for fuel and boost metabolism.
Popular for ketogenic diets and nootropic support as a source of fuel for brain cells.
Pure, vegan, paleo and keto friendly
"A little me time in the morning with Ancient + Brave MCT Oil and coffee.  I LOVE this Ancient + Brave MCT oil, it is so so so good."
Huda Kattan
Founder of Huda Beauty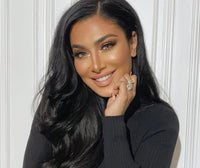 Ingredients
100% coconut
MCT's are readily utilised for cellular energy production and easily convert into ketones which may provide an alternative energy source for brain cells.
Rest assured our True MCT oil is sustainably sourced 100% from coconuts, never from palm oil, and is extracted using pure steamed distillation and gentle hydrolysis to contain C8 (60%) and C10 (40%).
A clear, odourless, and tasteless oil to easily fuel-up your day. A popular Brave Recipe is the morning ritual of adding True MCT to your morning coffee (or tea) for an invigorating start to the day.
You can also find MCT oil powder in our Naked Collagyn, Inspired Collagyn and Radiant Collagyn. GMO and solvent free.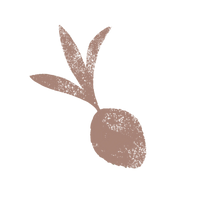 Your Method
True MCT is an incredibly versatile healthy fat suitable for low temperature cooking and to drizzle on salads and soups.  
Simply add 1 to 4 tsp of True MCT to transform your drinks and smoothies.  
Blend with your morning brew for the ultimate bullet drink experience and easily achieve your ketogenic goals with this optimal daily wellbeing ritual.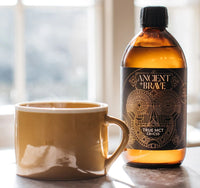 Other products you may enjoy:
FAQs
WHY IS MCT SO IMPORTANT AS PART OF THE BRAVE METHOD?
True MCT is a key part of the Brave Method as it contains special fats that cells can readily burn and convert into energy and ketones. Providing the body, muscles and brain with an energy supply during fasting which helps contribute to curb hunger, sustain alertness, energy, mindset and physical performance. By blending True MCT into either of our blends you add another layer of fuel to your day. You gain all the nourishing benefits of the hydrolysed collagen with the fuel and ketogenic potential of MCT. In the case of the Coffee + Collagen and Cacao + Collagen it could be that when the caffeine wears off, the MCT oils may still have you covered.
IS MCT BETTER THAN COCONUT OIL IN TERMS OF FAT BURNING AND KETONES?
Yes, MCT is vastly superior as it comprises only the key medium chain fats C8 and C10, which are readily converted into energy and ketones that help facilitate a state of ketosis. As a general guide you would need to take 6 tablespoons of coconut oil to gain the same amount of those helpful C8 and C10 medium chain triglycerides found in one tablespoon of MCT.
IS IT WORTHWHILE USING MCT IN BETWEEN MEALS?
Yes, a tablespoon or more of True MCT is useful between meals during your eating window, as this could help generate a feeling of satiety, distracting you from unhealthy snacks and may also help to bolster energy until your next mealtime. This is one of the reasons why MCT oil is so popular with some endurance athletes, who carry MCT oil on their long rides and runs.
WHY DOESN'T TRUE MCT OIL BREAK KETOSIS?
There are three things that tend to break a fast – total calories, carbohydrates and sugar. It's generally considered that consuming fewer than 50 calories is unlikely to break a fast. So adding just 1 tsp of MCT oil (which contains 42 kcal, no carbs and zero sugar) to coffee, herbal tea or water is likely to support your fast and support ketosis. When consuming more than 1 tsp of MCT oil, you go beyond 50 kcal so you typically break your fast. However, the body is still kept busy converting those extra MCT oils into ketones which continue to support ketosis. Fat fasting is a technique that many keto dieters use to facilitate transitioning into ketosis faster and to help promote weight management. Some types of ketogenic and bulletproof diets suggest adding up to 1-2 tablespoons (or even up to 4 tbsp) of MCT oil to your morning coffee providing 126-252 kcal (or up to 504 kcal), a level at which fasting is likely to be broken, but ketosis continues.
CAN MCT OIL CAUSE DIGESTIVE DISCOMFORT? 
It's always best to start with just 1 teaspoon of MCT oil and slowly increase this to your desired level over a period of weeks or months. Most people can increase their level of MCT oil quite comfortably, but some individuals may reach a bowel tolerance level for MCT (and other oils) where it becomes harder for the body to process (digest and absorb) the next higher dose. The undigested oil slips through the digestive tract and may trigger discomfort, nausea, bloating and diarrhoea. The sensible advice here is to take a short break from MCT oil and let your digestion recover. Then reintroduce at a lower, well-tolerated daily dose. Taking MCT with food such as drizzling over salad or adding to soup helps stimulate fat digesting enzymes to be released, which could help offset any digestive discomfort.
Nutrition
Typical Values

Energy
Fat
of which saturates
monounsaturates
polyunsaturates
Carbohydrate
of which sugar
Fibre
Protein
Salt
Per 100ml

815kcal
88g
84g
0g
0g
4.6g
0.5g
0.7g
0.3g
0.0g
Per 10ml serving

82kcal
8.8g
8.4g
0g
0g
0.5g
0.1g
0.1g
0g
0g
Ingredients
100% coconut (60% C8 and 40% C10 medium chain triglycerides)
Shipping
Shipping is free for all orders over €100
All order are sent with DPD, using their Tracked + Signed service. Except for Greece where we use UPS.
| | |
| --- | --- |
| Ireland (24 Hours) | €4.95 |
| | |
| Zone 1 | €11.50 |
| France (3-4 days) | |
| Germany (3-4 days) | |
| Netherlands (3-4 days) | |
| Belgium (3-4 days) | |
| Luxembourg (3-4 days) | |
| | |
| Zone 2 | €13.50 |
| Austria (4-5 Days) | |
| Czech (4-6 Days) | |
| Denmark (4-5 Days) | |
| Poland (5-7 Days) | |
| Lithuania (5-6 Days) | |
| Hungary (5-6 Days) | |
| Slovenia (4-6 Days) | |
| Slovakia (5-7 Days) | |
| | |
| Zone 3 | €15.00 |
| Sweden (5-7 Days) | |
| Spain (4-6 Days) | |
| Italy (4-6 Days) | |
| Latvia (5-8 Days) | |
| Estonia (5-7 Days) | |
| | |
| Zone 4 | €18.50 |
| Finland (5-7 Days) | |
| Croatia (5-8 Days) | |
| Portugal (5-8 Days) | |
| | |
| Zone 5 | €19.00 |
| Greece (4-6 Days) | |
How subscriptions work
Products are automatically delivered on your schedule. No obligation, modify or cancel your subscription anytime.
Learn More