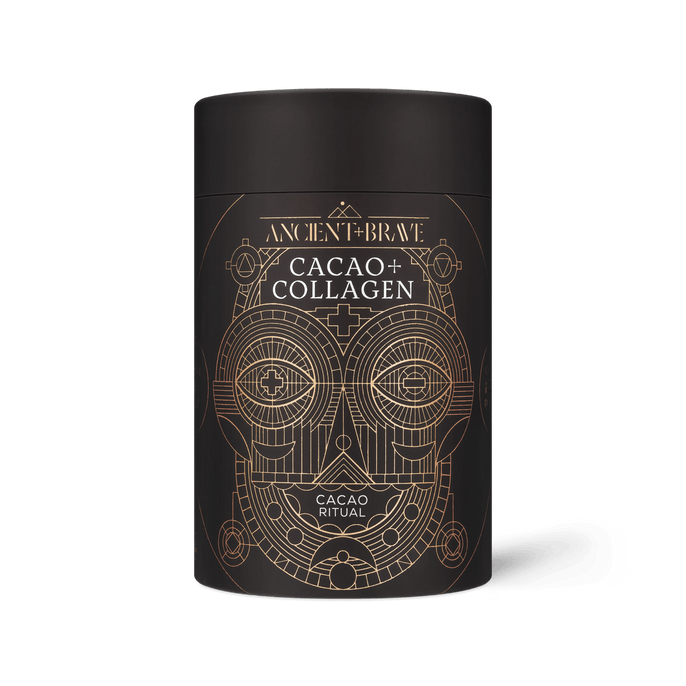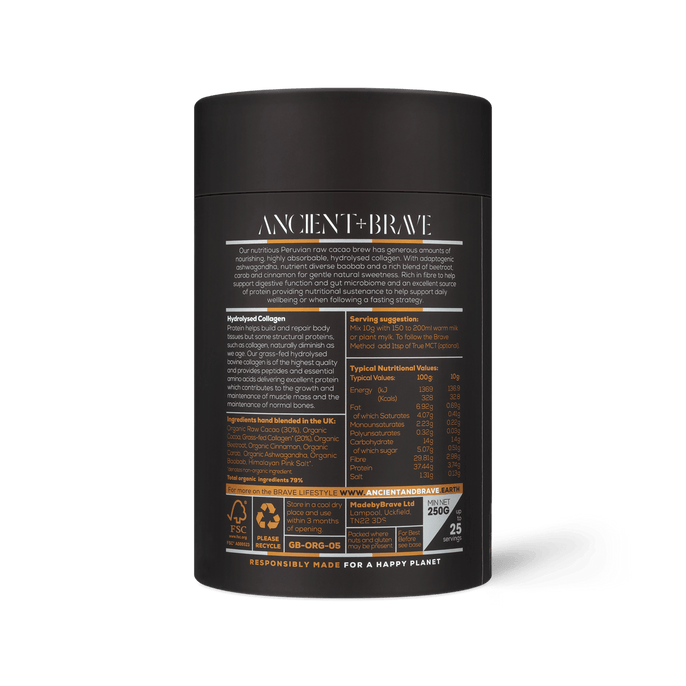 ---
Cacao + Collagen
A delicious smooth chocolate blend of luxury Peruvian raw cacao combined with generous amounts of highly absorbable, hydrolysed collagen peptides to nourish your skin from within. With organic botanicals comprising adaptogenic ashwagandha to help build stress resilience, nutrient diverse baobab, sweet earthy beetroot plus carob and cinnamon for a hint of natural sweetness. 
Each serving provides a rich source of fibre to support digestive function and gut microbiome. Our blend provides nutritional sustenance and an excellent source of protein for body conditioning and to help sustain your fasting window and achieve your ketogenic goals.
Together these botanicals and hydrolysed collagen peptides turn your brew into a comforting optimal daily wellbeing ritual.
250g (approx 25 servings)
For every purchase you make we donate 1% for the Planet and an additional 1% to our chosen community charities
The Hot List

Metro

"Tis the season to be supping Ancient + Brave's Cacao + Collagen. This hot chocolate-style drink tastes good and does good, featuring hydrolysed collagen to nourish skin from within."
Victoria Woodhall

Editor of Get the Gloss

"Why we love Cacao + Collagen - a tasty way to help stop you getting hungry on an intermittent fasting plan. I find my blood sugar is more balanced and I eat better for the rest of the day after Cacao + Collagen and my weight is stable"
Abigail James

Aesthetician and Wellbeing Expert

"There is something so decadent and indulgent about Ancient + Brave's Cacao + Collagen, but it's much more than a sumptuous treat. I find that some other brands of collagen drinks can taste strange but this is completely pure, odourless and tasteless so the taste is all about the chocolate flavour. Chocolate that is good for? Yes, yes, yes"
Susannah Constantine

Journalist, Presenter

"Not only does it taste delicious (especially the Cacao + Collagen), but the quality is superb and the packaging slick and classy."
Healthista

"Fuelled by the delicious Ancient + Brave Cacao + Collagen and MCT oil intermittent Fasting was a doddle."
Katy Sunnassee

Editor of Top Sante

"Ancient + Brave Cacao + Collagen - to nourish skin from within."
"Not your average hot chocolate, this is packed full of antioxidants."
Jo Woodhurst


Head of Nutrition
Benefits of Cacao + Collagen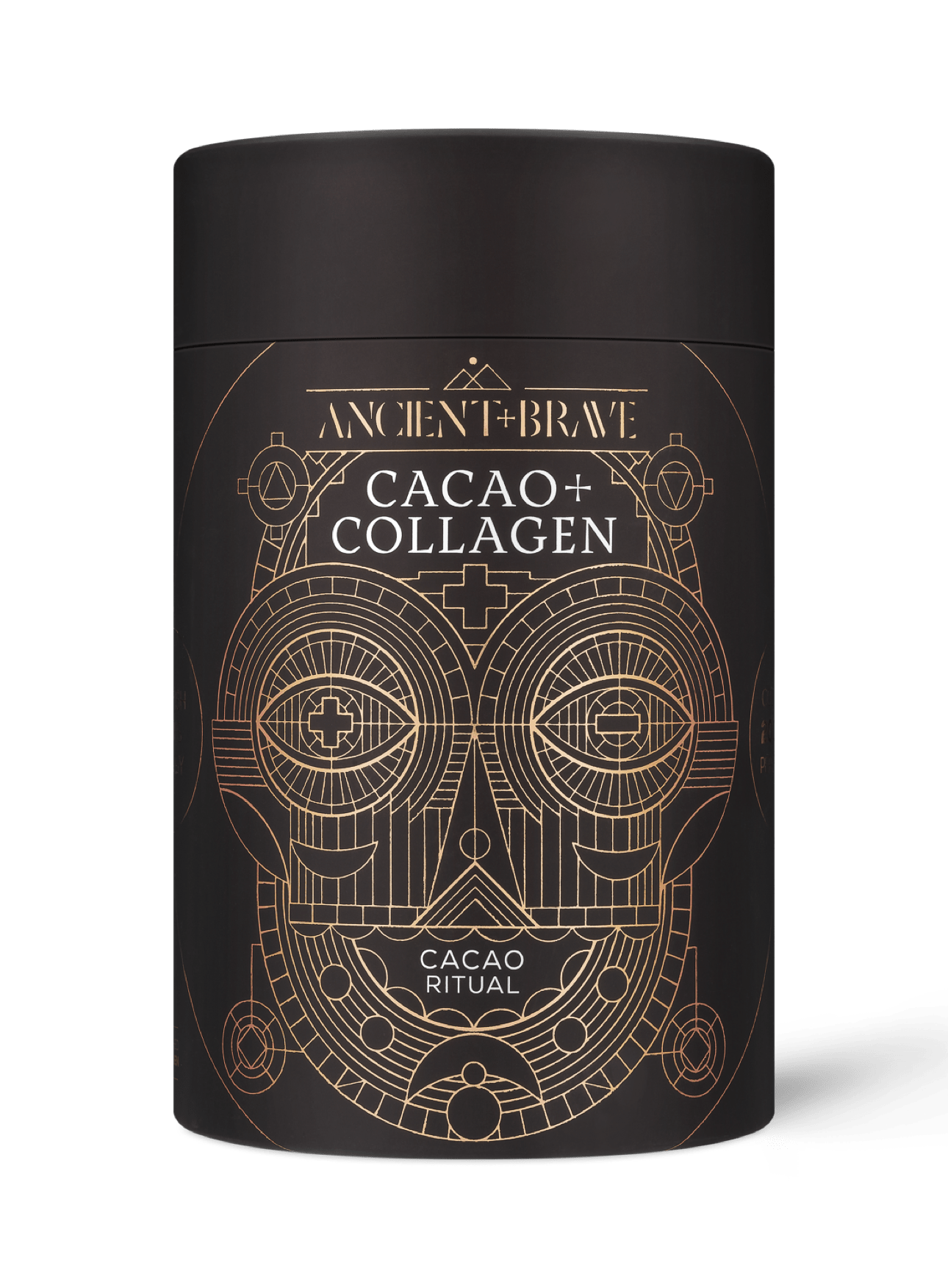 2000mg of nourishing hydrolysed collagen peptides in each serving.
Rich in prebiotic fibre to support a balanced digestive system.
Excellent source of protein to support muscle mass and body conditioning.
Balancing ashwagandha to help build resistance to stress.
Nourishment to help avoid in-between meal snacking.
Deliciously warming chocolate ritual for mindful wellbeing.
"Ingesting goodness is better than slapping creams on your face. I drink a Cacao + Collagen from Ancient + Brave.  It has changed my life".
Susannah Constantine
Journalist, Presenter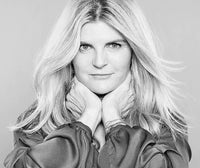 Your Method
Our delightfully healthy hot chocolate brew is gently restorative with targeted nutritional benefits and can be enjoyed any time of day.
Mix 2 scoops (10g) of Cacao + Collagen with 150 to 200ml warmed milk or plant mylk or simply add to your daily smoothie. Alternatively mix with hot water for those following a fasting or ketogenic lifestyle strategy.
Blend with 1 tsp of our True MCT oil for a next level ketogenic inspired brew to help power you through the day.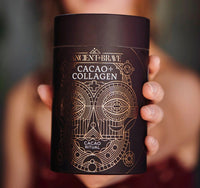 Other products you may enjoy:
FAQs
HOW DOES CACAO + COLLAGEN SUPPORT FASTING?
Some people find that the last few hours of their fasting window, which is typically the first few hours of their day, tend to be the most challenging. This is where Cacao + Collagen comes in as it contains a natural source of caffeine to help kick start your morning, and hydrolysed collagen peptides (units of protein) for nutritional sustenance to help you extend your fast to the finish line. It contains botanical adaptogens which help build stress resilience offering up support during busy and demanding mornings. Adding a teaspoon of True MCT oil to Cacao + Collagen provides a source of fat that helps you feel fuller for longer and which cells can readily convert into energy and ketones.
COULD ADDING MILK OR MYLK TO MY CACAO+COLLAGEN INTERFERE WITH MY FAST?
Full fat, semi and skimmed cow's milk all contain too many calories to keep you in fast. But if you use unsweetened plant mylk, avoid ones that come fortified with extra protein it shouldn't make a big difference. As a general guideline, keep the total calories (of your brew + mylk) within the 50 kcal limit, so we recommend no more than 50mls of any milk providing the nutrition information states:

Under 28 Kcal per 100ml

Under 2.5g of total carbs per 100ml

Under 2.5g sugar per 100ml

Under 0.5g of protein per 100ml

In a nutritional analysis comparison of lots of different brands and types of plant mylks we found that it's Alpro's fresh unsweetened: almond milk, cashew milk, coconut milk, coconut and almond milk plus Califa's fresh almond milk that all fit these criteria.
WHY DOES THE BRAVE METHOD RECOMMEND ADDING MCT INTO CACAO + COLLAGEN?
By blending True MCT into either of our True Collagen blends you add another layer of fuel to your day. You gain all the nourishing benefits of the hydrolysed collagen with the fuel and ketogenic potential of MCT. In the case of the Cacao + Collagen it could be that when the caffeine wears off, the MCT oils may still have you covered.
CAN YOU DRINK ANCIENT + BRAVE BLENDS EVEN WHEN YOU'RE NOT FASTING?
Yes, they're so delicious, why wouldn't you want to keep drinking them! All our products can continue to be used throughout the day, even when you are out of fasting mode, as they deliver key nutrients. Cacao + Collagen contains botanical adaptogens which help build resilience to stress, so these products may be helpful when your to-do list is looking pretty stacked up. 
IS THE CACAO + COLLAGEN SAFE FOR KIDS?
Cacao naturally contains caffeine, so this is the first thing to consider when asking if the products are suitable for children. There is very little advice or official guidelines in the UK for the age at which it's appropriate for children to start to drink caffeine, this tends to be down to the parent to decide. However, many children are very familiar with the natural levels of caffeine found in cacao from hot chocolate. Collagen is an important structural component of bones, connective tissue and skin required by the body during times of rapid growth and development. These products do also contain adaptogens which may not be suited to children of young ages. 
Nutrition
Typical Values

Energy
Fat
of which saturates
monounsaturates
polyunsaturates
Carbohydrate
of which sugar
Fibre
Protein
Salt
Per 100g

328kcal
6.92g
4.07g
2.23g
0.32g
14g
5.07g
29.81g
37.44g
1.31g
Per 10g serving

32.8kcal
0.69g
0.41g
0.22g
0.03g
1.4g
0.51g
2.98g
3.74g
0.13g
Ingredients
Organic Raw Cacao*
Organic Cocoa*
Grass-fed Bovine Hydrolysed Collagen Peptides
Organic Beetroot*
Organic Cinnamon*
Organic Carob*
Organic Ashwagandha*
Organic Baobab*
Pink Himalayan Salt
---
*All of the organic ingredients are certified by the Soil Association
Not suitable for vegans or vegetarians
Shipping
Shipping is free for all orders over €100
All order are sent with DPD, using their Tracked + Signed service. Except for Greece where we use UPS.
| | |
| --- | --- |
| Ireland (24 Hours) | €4.95 |
| | |
| Zone 1 | €11.50 |
| France (3-4 days) | |
| Germany (3-4 days) | |
| Netherlands (3-4 days) | |
| Belgium (3-4 days) | |
| Luxembourg (3-4 days) | |
| | |
| Zone 2 | €13.50 |
| Austria (4-5 Days) | |
| Czech (4-6 Days) | |
| Denmark (4-5 Days) | |
| Poland (5-7 Days) | |
| Lithuania (5-6 Days) | |
| Hungary (5-6 Days) | |
| Slovenia (4-6 Days) | |
| Slovakia (5-7 Days) | |
| | |
| Zone 3 | €15.00 |
| Sweden (5-7 Days) | |
| Spain (4-6 Days) | |
| Italy (4-6 Days) | |
| Latvia (5-8 Days) | |
| Estonia (5-7 Days) | |
| | |
| Zone 4 | €18.50 |
| Finland (5-7 Days) | |
| Croatia (5-8 Days) | |
| Portugal (5-8 Days) | |
| | |
| Zone 5 | €19.00 |
| Greece (4-6 Days) | |
How subscriptions work
Products are automatically delivered on your schedule. No obligation, modify or cancel your subscription anytime.
Learn More