Menopause
Targeted nutrition to support the hormonal effects of menopause.
The menopause is a challenging time for all women, both physically and mentally. During the menopause, our bodies need different nutrients at different levels on a day-to-day basis due to the fluctuations in hormone production. Ensuring your body gets what it needs in abundance is key to making those difficult days a bit easier. 
During the first five years of themenopause women lose 30% of their skin's collagen and continue to lose 2% of their collagen annually after that. Women may also experience hair loss which can be distressing as collagen makes up 70% of the skin that contains the hair root. Supporting and protecting collagen is vital for all skin renewal and anti-ageing rituals.
Taking True Collagen during this time supports your body in maintaining its collagen levels, preventing some of the unwanted effects of the menopause. Our vegan Collagyn collection provides a truly plant-based alternative to bovine and marine hydrolysed collagen.  Try Radiant Collagyn - our delicious berry blend of collagen specific amino acids, collagen protective botanicals and skin supportive nutrients.
Our products to support menopause
"In three months, I do feel like my hair is in good nick, it looks thicker and fuller, and my skin feels amazing – I would strongly advise this for anyone over 40 as a supplement."
Davina McCall
Presenter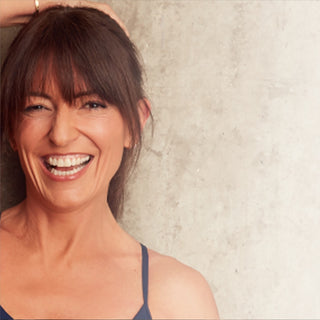 True Collagen
Highly absorbable, odourless and tasteless type 1 collagen peptides.
Key nutrient involved in cellular collagen renewal and formation.
An essential nutrient for youthful skin tone and anti-ageing.
Effortlessly nourishes and hydrates the skin from within.
Radiant Collagyn for beauty
Supports collagen formation and renewal and deeply nourishes skin from within 
Protects cells from oxidative stress generated by harmful free radicals
An excellent source of protein and prebiotic fibre for gut microbiome.
Delicious berry blend to support natural beauty and anti-ageing rituals.
Inspired Collagyn for brain
Restorative ashwagandha for stress resilience.
Vitamin C for normal psychological function and brain
Deliciously comforting Ayurvedic inspired blend for balance.
Choline is a nutrient required for memory and mental function.
Vitamin D which is important for brain health. 
FAQs
IS COLLAGEN GOOD FOR MY SKIN?
Yes! Collagen plays an important role in the strength and elasticity of skin and our True Collagen provides highly absorbable hydrolysed collagen peptides. Collagen levels naturally begin to decline as we age, so it is a perfect addition to your daily anti-ageing ritual.
DOES TRUE COLLAGEN HELP WITH JOINT PAIN?
Menopausal related joint pain is often related to the reduced level of estrogen as typically, estrogen helps reduce inflammation. However, the added decline of collagen supply in the body is likely to also contribute to joint pain and discomfort. True Collagen helps to maintain strength and elasticity in the cartilage that acts as a cushion in the joints.
I EXPERIENCE BRAIN FOG. WHICH PRODUCTS WOULD YOU RECOMMEND?
Our Inspired vegan Collagyn has been formulated with your mind in mind. With restorative adaptogenic ashwagandha for stress resilience, it is the perfect blend for stressful and busy lifestyles. The vegan range also has key essential vegan nutrients including choline, iodine and vitamin D to support mind, mood, cognitive function and optimal daily wellbeing. The MCT oil is another great product to support brain power. It is a quick and reliable source of energy, providing a fuel source for brain cells.
I HAVE TROUBLE FOCUSSING, WHICH PRODUCT DO YOU RECOMMEND?
MCTs (medium chain triglycerides) are types of saturated fatty acids which, rather than being stored, tend to be quickly absorbed, converted into ketones and utilised in cellular metabolism and energy production. MCT is popular for ketogenic diets and nootropic support since ketones provide a potential fuel source for brain cells, helping to keep you focussed and sharp throughout your day.
HOW LONG WILL IT BE BEFORE I SEE A DIFFERENCE WHEN TAKING TRUE COLLAGEN?
As we are all so different and our bodies react in such different ways, it is very hard to say how long it will take for you to see a difference. We have had a number of wonderful testimonials noticing the benefits from our customers which range from a couple of weeks to a couple of months.