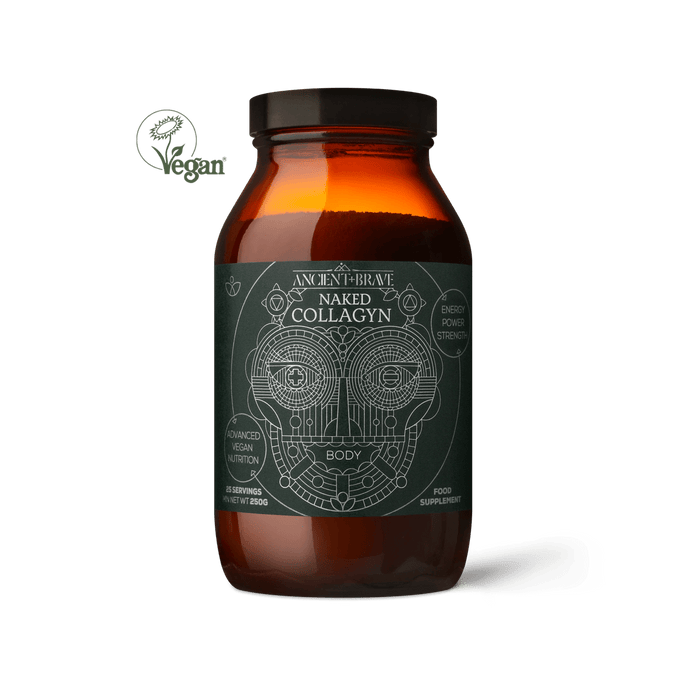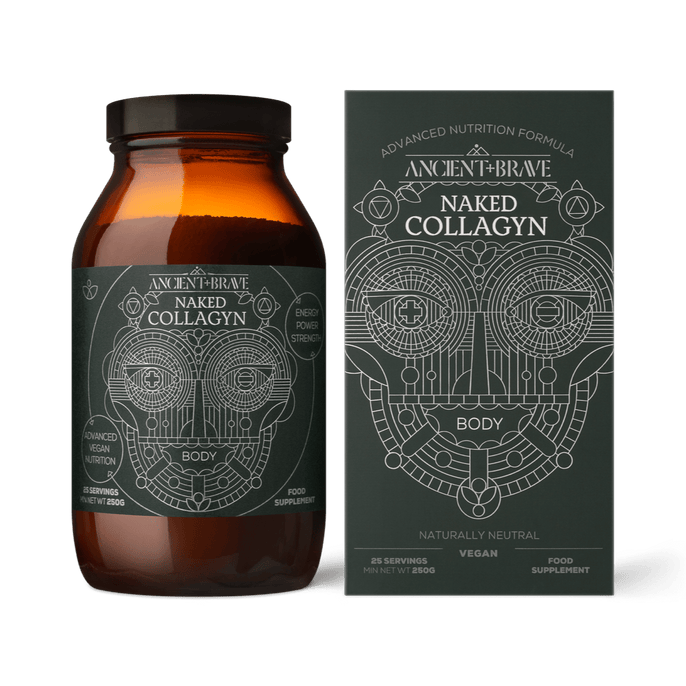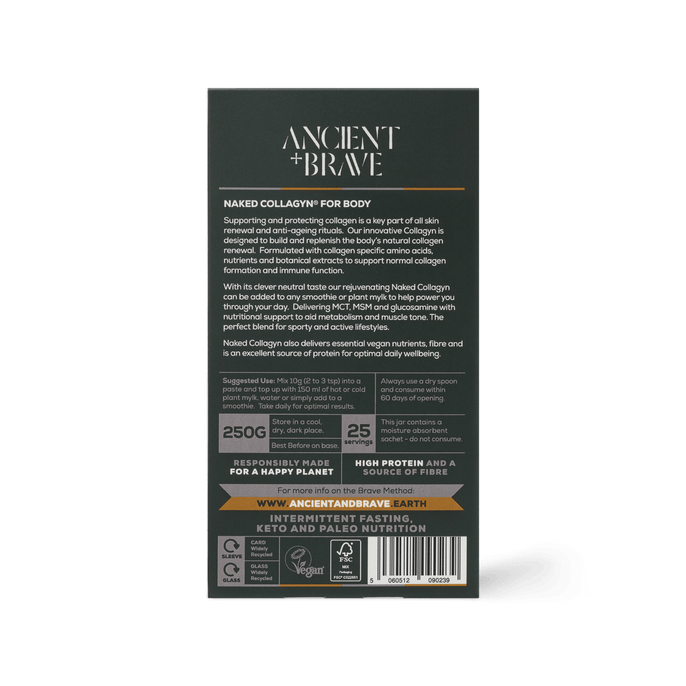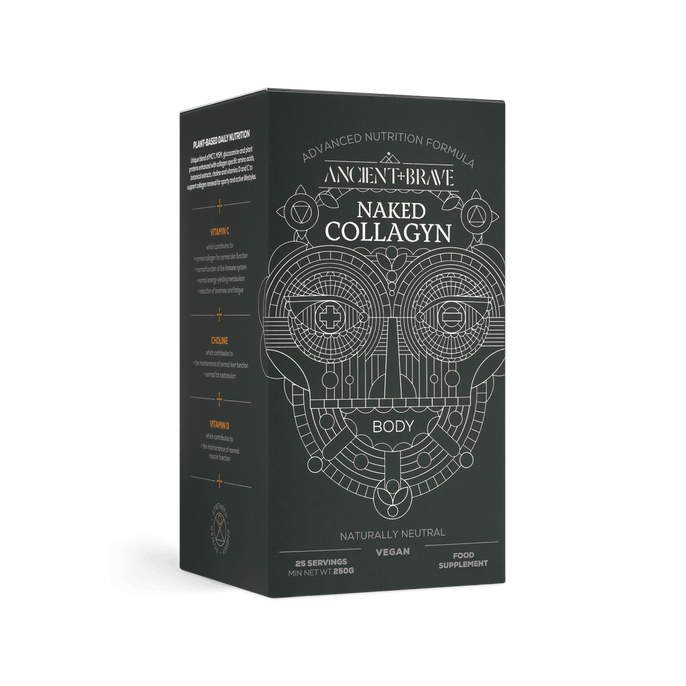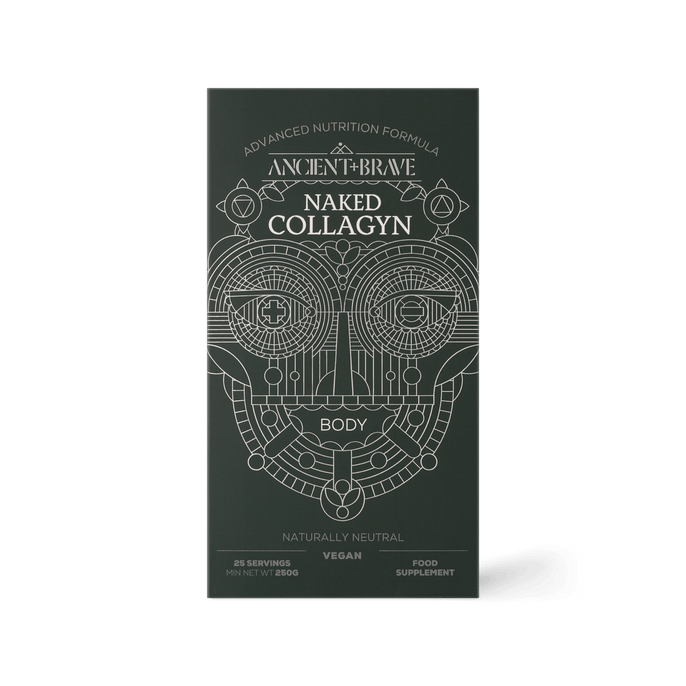 ---
Naked Collagyn for Body
With its clever neutral taste our rejuvenating Naked Collagyn can be added to plant mylk or any smoothie to help power you through your day. Blended with MCT, MSM and glucosamine Naked Collagyn is the perfect partner for sporty and active lifestyles.
Our innovative Collagyn range is formulated with collagen specific amino acids, plant proteins, botanical extracts and buffered vitamin C to support normal collagen formation and renewal.
With key essential vegan nutrients including choline, iodine and vitamin D to support normal metabolism, immune function and optimal daily wellbeing. 
Rich in prebiotic fibre to support digestive function and gut microbiome and an excellent source of protein for muscle tone, body conditioning and sustained fasting.

250g (approx 25 servings)
For every purchase you make we donate 1% for the Planet and an additional 1% to our chosen community charities
Elle

"In need of a reboot? Amplify your general sense of wellbeing with a new generation of supplements that promote change from the inside out. Best for collagen production is Naked Collagyn."
Daily Express

"Sometimes you need a boost from the inside and the new vegan collagen collection from Ancient + Brave is great for those avoiding animal products. A unique blend of amino acids, botanical extracts, choline and vitamins D and C help collagen formation and boost your metabolism."
Renée Elliott

Founder of Planet Organic

"Ancient + Brave consistently combine cutting edge nutrition, excellence and taste to create sensational products."
"This provides the body with what it needs to build its own collagen naturally."
Jo Woodhurst


Head of Nutrition
Benefits of Naked Collagyn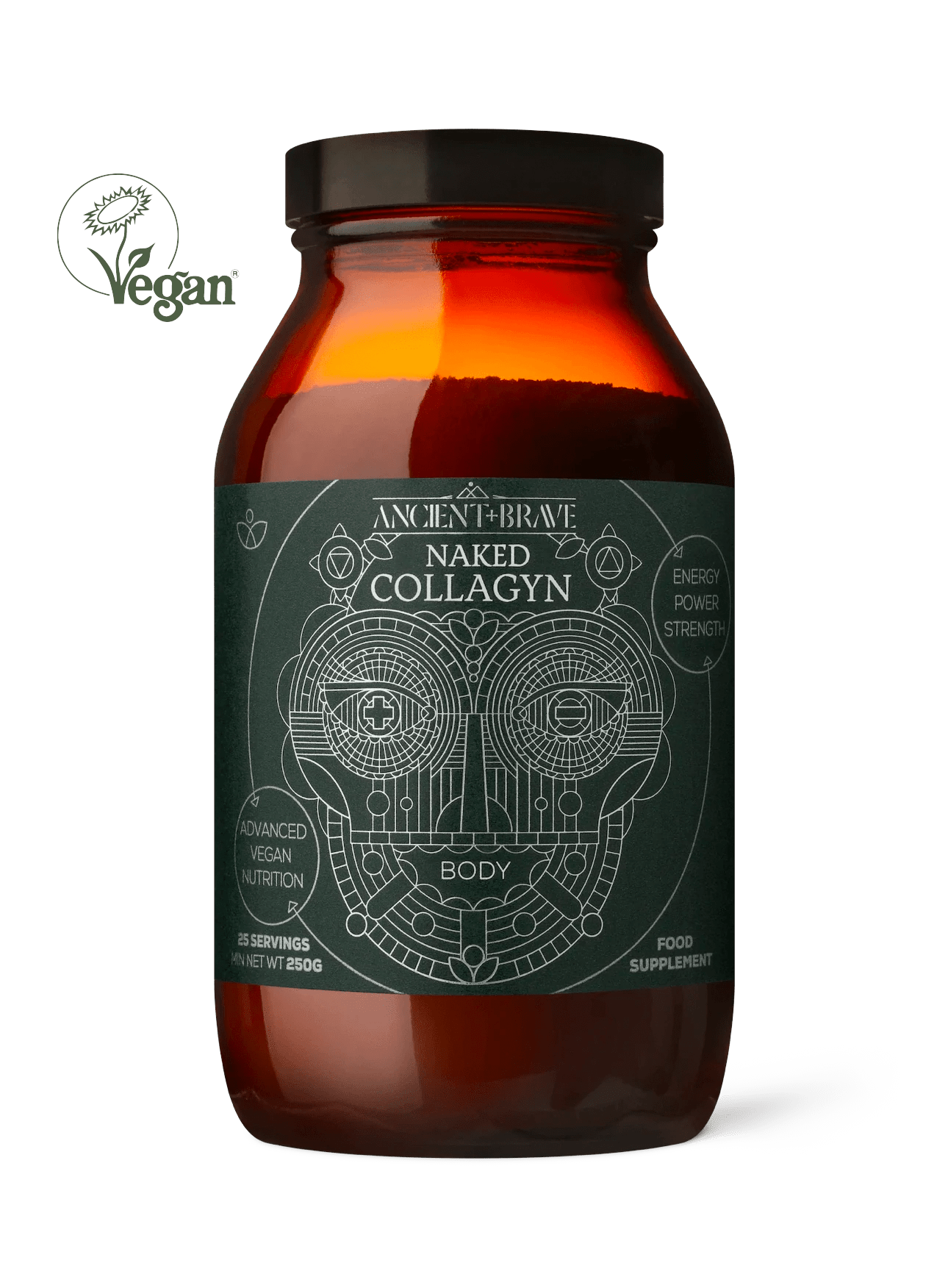 Advanced nutritional formula of plant proteins, collagen specific amino acids and MCT.
With MSM and glucosamine sulphate which help support mobility and flexibility in joints
Rich in prebiotic fibre and an excellent source of protein for muscle maintenance.
With a clever neutral taste – it is perfect to drink on its own or add to a smoothie.
Supports metabolism, immune function, body conditioning and sustained fasting.
Perfect partner for sporty and active lifestyles and optimal daily wellbeing
Formulated with vitamins C and D, choline and iodine.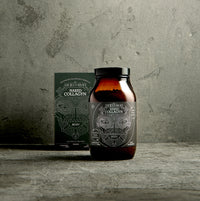 Daily nutrition support
A wide range of collagen specific amino acids from chickpea, brown rice and pea protein.
280% NRV of buffered vitamin C to support collagen synthesis.
800% NRV of vitamin D3 for bone health and preventing osteoporosis.
100% NRV of iodine from wild harvested Hebridean seaweed.
85mg choline from a naturally fermented source.
White tea extracts containing flavanols and polyphenols.
Prebiotic soluble fibre sourced from chicory root inulin.
Glucosamine and MSM to help support mobility and flexibility.
"Loving the plant based Collagyn"
Sophie Morgan
Presenter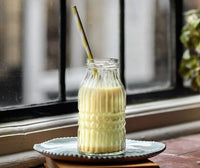 Your Method
Simply add 2 tsp (10g) to your smoothie mix and blend. Alternatively, add 2 tsp (10g) to a cup and mix to a paste with a small amount of milk, plant mylk or water. Top up with 150ml of hot or cold plant mylk, milk or water and enjoy.  Take daily for optimal results.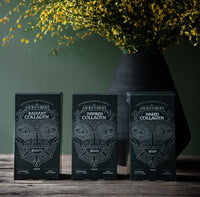 Other products you may enjoy:
FAQs
WHAT EXTRAS DO THE VEGAN BLENDS CONTAIN?
We have blended each of our vegan collagyn products  with specific botanicals with benefits aimed at brain, body and beauty and tailored the flavours. You can choose based on your health goals, however each blend supports the body holistically with wide ranging benefits. 
The Vegan Collagyn range all provide plant-based sources of the main amino acids that are naturally present in collagen (glycine, proline, hydroxyproline) ensuring collagen renewal, whilst also containing specific nutrients that are hard to obtain from a vegan diet including vitamin D, iodine and choline. 
Other nutrients that are also key for skin health and collagen renewal including vitamin C are also included. 
The botanicals are all well studied and used for their anti-inflammatory or antioxidant properties.
IS VEGAN COLLAGYN ORGANIC?
Each of the Vegan Collagyn products contain certified organic pea and brown rice protein powders and wild harvested organic Hebridean seaweed.
Additionally, Radiant Collagyn contains organic certified beetroot and Inspired Collagyn contains certified organic turmeric, ginger, cardamom, cinnamon and black pepper.
However, because the Vegan Collagyn products are classed as nutritional supplements since they contain added nutrients such as vitamin D, vitamin C, choline, L-glycine, L-proline, L-hydroxyproline, L-alanine, L-arginine then we are unable to register them with the Soil Association for certification.
Whether or not they are organic we always strive to find the best quality ingredients, as sustainably sourced and most bioavailable possible. 
HOW DOES VEGAN COLLAGYN COMPARE TO TRUE COLLAGEN AND WILD COLLAGEN?
Collagen is a natural compound found in humans and animals - this of course makes it difficult to obtain on a vegan diet. 
The long amino acid chains that form the polypeptides found within the large collagen molecule are mainly formed from just 5 key amino acids – glycine, proline, hydroxyproline, arginine and alanine. Instead of using bovine or marine hydrolysed collagen peptides the Vegan Collagyn range contains generous amounts of all 5 of these amino acids, from vegan and fermented sources (except glycine which is vegan sourced) to provide the body with the building blocks of collagen it needs. 
The vegan Collagyn range also contains Vitamin C, a key cofactor for the enzymes which build new collagen molecules. 
WHICH VEGAN COLLAGEN SHOULD I TAKE?
All of the blends benefit collagen renewal aswell as containing Vitamin D, choline and iodine - nutrients difficult to obtain on a vegan diet. On top of this you may want to consider: 
For BODY - choose NAKED - with it's unique blend of MCT, MSM, glucosamine which support sporty and active lifestyles and recovery. 
For BRAIN - choose INSPIRED - with adaptogenic ashwagandha, cognitive supporting botanicals such as turmeric + ginger and MCT to provide energy to the brain this blend 
is perfect for stressful and busy lifestyles and optimal mindful wellbeing. 
For BEAUTY - choose RADIANT - This delicious berry + beetroot blend is perfect for indulgent and urban lifestyles, to help protect cells from oxidative stress and deeply nourish your skin from within.
HOW DO YOU RECOMMEND USING VEGAN COLLAGYN 
There are many ways to use our blends! 
They taste delicious when made with hot mylk or milk. The ideal way to take this would be to blend 10g with a small amount of hot water (or hot milk/mylk) to make a paste and then top up with 100-150ml hot mylk or milk. 
Another popular method is to simply add 10g (2 teaspoons) to a smoothie of your choice. 
To use in food you may want to add the powders to overnight oats, yogurt or chia pudding. 
IS THIS PRODUCT SUITABLE TO TAKE WHILST FASTING?
In a nutshell - YES! Our Vegan Collagyn range has been designed to be part of our Brave Method which cleverly supports many of the different forms of Intermittent Fasting, Time Restricted Eating and Ketogenic Diets that are so popular today.
During your fasting window - consuming no more than 50 kcal during your fasting window is unlikely to interfere with your fast. The Vegan Collagyn range all contain less than 36 kcal per 10g serving when made with hot water.  If you are finding the last couple of hours of your fasting window a little challenging or if you are looking for a nutritious vegan hot beverage to help kick start your day without offsetting all your overnight fasting efforts, then the Vegan Collagyn products are there to support you. 
During your eating window, if you are following a keto protocol of restricting total carbs to no more than 20g a day, then the Vegan Collagyn products are completely suitable to help sustain you in-between meals or to reach for as a protein snack choice.. Alternatively during your eating window, you could make the Vegan Collagyn products with milk or plant mylk for a comforting and luxurious drink.
CAN I TAKE VEGAN COLLAGYN AT THE SAME TIME AS THE OTHER COLLAGEN PRODUCTS?
If you are not following a vegan diet and you love our collagen range (True Collagen, Wild Collagen, Coffee + Collagen, Cacao + Collagen), then you can still continue with these products if you like and you could also add in the Vegan Collagyn of your choice and benefit from all those skin nourishing free amino acids, vitamins and minerals. You might find it helpful to cycle through the different products to give your body variety! 
DOES IT SUPPORT MY GUT HEALTH?
Yes, we've used inulin, a type of prebiotic starch found in a wide variety of fruits, vegetables, and herbs. It stays in the bowel and helps certain beneficial bacteria to grow. The inulin in our products is from chicory root - a supplement known to support our gut health. 
Our blends also contain gut friendly herbs such as turmeric and ginger, known as digestive healing agents and antioxidant rich berries which your gut bugs love! 
I HAVE A COLD SORE, SHOULD I AVOID THIS PRODUCT?
This question often refers to the amino acid Arginine. Whilst this amazing amino acid is responsible for increasing blood flow and improving brain health, the herpes simplex virus, (which causes cold sores), requires arginine to replicate in your body. Depriving the virus of arginine may reduce the duration and severity of an outbreak. You can then return to using the product once your symptoms are cleared.
Nutrition
Typical Values

Energy
Fat
of which saturate
Carbohydrate
of which sugars
Fibre
Protein
Salt
Vitamin D3
Vitamin C
Iodine
Choline
L-Glycine
L-Proline
L-Hydroxyproline
Glucosamine  Sulphate
Per 100g

374 kcal
7.4g
7.0g
28.6g
3.7g
6.7g
44.7g
0.12g
400 ug
2250mg
1500ug
850mg
10000mg
5000mg
5000mg
10000mg
Per 10g serving

37kcal
0.74g
0.7g
2.86g
0.37g
0.67g
4.47g
0.01g
40ug                         
225mg          
150ug                            
85mg
1000mg
500mg
500mg
1000mg
Ingredients
Chickpea Protein
Chicory Root Inulin
MCT Oil Powder
Glucosamine Sulphate
L-Glycine
L-Hydroxyproline v
L-Proline v
MSM
Wild-harvested Hebridean Seaweed
Natural Flavouring
Vitamin C (Magnesium Ascorbate)
L-Arginine v
L-Alanine v
L-Choline Bitartrate v 
Pea Protein
Brown Rice Protein
White Tea Extract
---
v denotes vegan fermented source   
Shipping
Shipping is free for all orders over €100
All order are sent with DPD, using their Tracked + Signed service. Except for Greece where we use UPS.
| | |
| --- | --- |
| Ireland (24 Hours) | €4.95 |
| | |
| Zone 1 | €11.50 |
| France (3-4 days) | |
| Germany (3-4 days) | |
| Netherlands (3-4 days) | |
| Belgium (3-4 days) | |
| Luxembourg (3-4 days) | |
| | |
| Zone 2 | €13.50 |
| Austria (4-5 Days) | |
| Czech (4-6 Days) | |
| Denmark (4-5 Days) | |
| Poland (5-7 Days) | |
| Lithuania (5-6 Days) | |
| Hungary (5-6 Days) | |
| Slovenia (4-6 Days) | |
| Slovakia (5-7 Days) | |
| | |
| Zone 3 | €15.00 |
| Sweden (5-7 Days) | |
| Spain (4-6 Days) | |
| Italy (4-6 Days) | |
| Latvia (5-8 Days) | |
| Estonia (5-7 Days) | |
| | |
| Zone 4 | €18.50 |
| Finland (5-7 Days) | |
| Croatia (5-8 Days) | |
| Portugal (5-8 Days) | |
| | |
| Zone 5 | €19.00 |
| Greece (4-6 Days) | |
How subscriptions work
Products are automatically delivered on your schedule. No obligation, modify or cancel your subscription anytime.
Learn More